Springtime has all our circuits really altered, that is why we've decided to join once again the Hangar Obert activities once again to organize our next meeting. Save the date, it will be Friday May 17th in Hangar  at 18h!!!
keep on reading to see what's in the menu:
////////////////////////////////////////////////////////////////////////////
ALBA G. CORRAL
In nearly 10 years of existence of Dorkbot Barcelona, and we had never invited Alba! And that is totally UNFORGIVABLE! the work of Alba G. Corral doesn't need any presentations since her generative graphics are already part of the digital landscape of Barcelona and the world. Alba has performed along artists like Arbol, Fibla, Nikka and Stendhal Syndrome among others. Born in Madrid and Barcelona based, alba uses code to create visual tools that breathe life in real time to abstract digital landscapes. She develops visual programming, generative art and live performances within the context of Live Cinema and teaches visual code.
Her narrative atmospheres express sensitivity and taste for color, and her career is always related to visual manipulations. Improvisation in different sound atmospheres and digital language translated into abstract and organic sensations take shape in her creations made in code.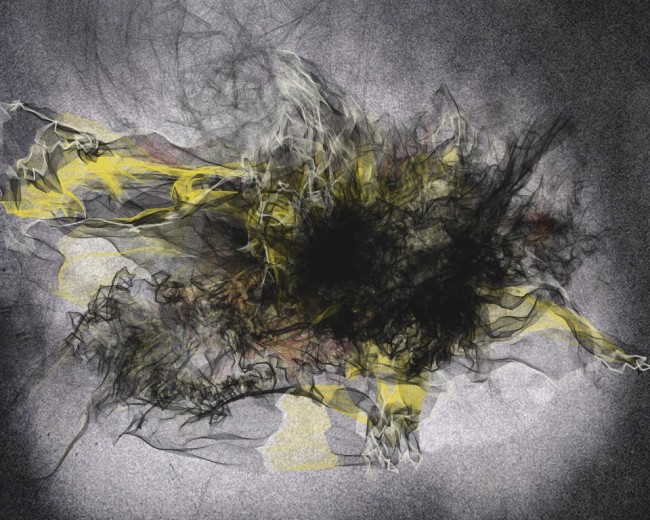 ////////////////////////////////////////////////////////////////////////////
MARCOS ALONSO PRESENTS SAMPLR
Samplr is an iPad app that lets you make music and play with sound by touching it with your fingers
Samplr lets you make music and play with sound in a new and intuitive way by touching the waveform on the screen directly with your fingers. Explore the sounds melody and texture using the different play modes and create your music compositions with the gesture recorder. With an interface designed for live performance, Samplr gives the musician quick and precise access to all the instrument functionality at any time. Unlike other apps that try to recreate real life instruments or interaction concepts from traditional computers Samplr was designed from the very beginning for Multi-Touch devices.
Marcos Alonso is a programmer, designer and musician whose work is born out of his passion for music and computers and how to use new technologies for music performance. During his research work at the Music Technology Group of the Universitat Pompeu Fabra he co-created the Reactable, where he was mainly responsible for the graphics and interface design of the instrument. Since its presentation in 2005 the Reactable has been internationally acclaimed and received many worldwide awards. In 2009 he co-founded Reactable Systems where he currently works.

////////////////////////////////////////////////////////////////////////////
WELOVECODE PRESENTING AIR GUITAR
We've all done it at least once: Pretend that we're playing an invisible guitar, no matter to what rhythm…. Stairway to heaven? Where is my mind? Highway to Hell? pick your poison, no matter what you choose, the air guitar prototype created by welovecode will take your air guitar experience to another level.
Air Guitar WIP is a virtual guitar prototype created with kinect, openFrameworks and openNI libraries. The basic idea behind it is to create an invisible guitar that sounds from the movement of the hands and the body of the guitar player. To design it they observed the air guitar contests where the movement of the imaginary guitarist creates a choreography that follows the rhythm of the music, most of the time in ways that would be impossible to achieve with a real physical guitar. With this panoramic 360º video made in collaboration with production studio Mr. Fogg and Felipe L. Navarro we have a taste of what this application can do:
Welovecode
are Roman Torre and Pelayo Méndez, they make projects and systems meant to provide a different visual and interactive experience, in a wide range of fields that go from scenic arts and art installations to information systems and advertising events. They plan their projects in a very integral way, developing applications and custom hardware, using free software putting in the project all the love and respect.
Welovecode are also an open studio, a network of collaboration of specialized professionals that work together and share knowledge in order to to make the projects from a perspective of innovation, and sharing experiences.
http://www.welovecode.net
////////////////////////////////////////////////////////////////////////////
MID PRESENTING BHOREAL
A BHOREAL controller does not generate sounds by itself. It is a blank slate, without any autonomous function. It has to be connected to a computer and associated to a software in order to work. When you connect BHOREAL controller to a computer, begins a startup test program and the buttons blink. Each button has its own LED and… Surprise! They are RGB!
Bhoreal is currently in the process of crowdfunding on the Goteo platform. If you want to support the project check out this link:
http://goteo.org/project/bhoreal/
Open Source philosophy is present in both hardware and software design. The firmware is Open Source and all its documentation is released under Creative Commons licenses.BHOREAL can work through three different communication protocols: Serial, MIDI and OSC (Open Sound Control) and therefore it can be used with many applications.
By using the serial protocol we can connect BHOREAL to any device/software which is serial port compatible. In case we choose MIDI, we can use BHOREAL with any standard software for music creation/image processing in real time and we can create a wide range of MIDI mapping and paging systems, with different color settings. Finally, by using OSC (Open Sound Control) we can control software applications which are already available and develop our own programs and apps, sequencers, sampling tools, synthetizers, grooveboxes, drum machines, algorithmic and generative controllers (such as "Game of Life"), maths simulators, game interfaces, low-res LED devices, lighting remotes, home automation and robotics among others, in addition to any other compatible device.
The hardware and firmware are completely open source and are published under Creative Commons licenses. BHOREAL hardware is compatible with Windows operating systems, Mac OS and Linux. Bhoreal is a project by interaction design study MID, and developed by Alex Posada, Miguel Angel de Heras, Enrique Leonardo Perotti, Aitor Aloa and Susanna Garcia.