A couple of years ago we started to celebrate our Dorkbots during the Hangar Obert activities, and this spring it won't be any less. Our meeting will be Saturday May 24th at Hangar Get ready for the Dorkbot menu, as always, is full of awesomeness
Keep on reading to find out what we've prepared
////////////////////////////////////////////////////////////////////////////
HIGHTECH RUPESTRE
Hightech Rupestre are Mónica Rikić and Lucía Seguramente, they create projects with low technology and other inventions. They both studied Fine Arts at the UB University and studied the UPF masters degree in Digital Arts (Many of our dorkbotic friends are studiying or have studied this masters!) Mónica is a programmer and has participated in a bunch of international festivals such as SonarKids, FILE, TEI or Ars Electronica. Lucía is a designer and in 2012 she received a Telenoika grant (warranty of quality!) for research and production. They will present us their adventures and experiences and they'll bring three of their projects: Cup Coder, Jump! and Sonic Caleidoscope. All three projects are based on traditional toys- such as the cup telephone, the jump rope, and the caleidoscope respectively- that are transformed using nowadays technologies.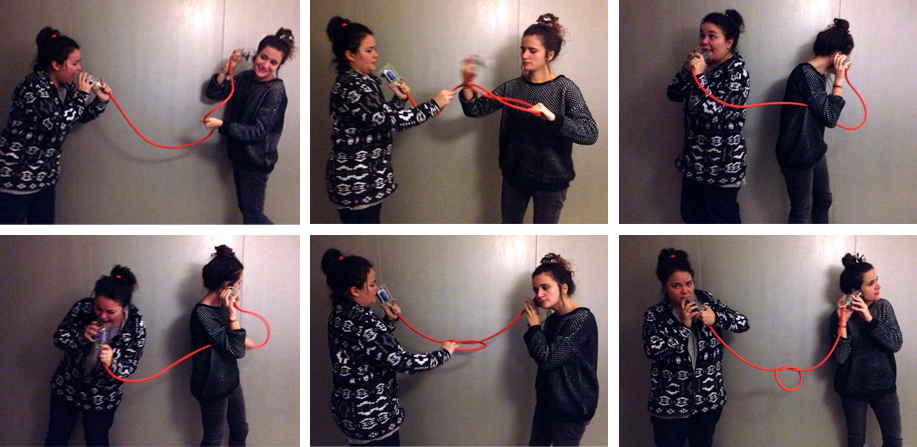 ////////////////////////////////////////////////////////////////////////////
BEFACO 
Befaco is a DIY and open source platform for musical research, dedicated to the construction and development of modular synthesizers, using its very own system. To avoid using interior wiring, all the components are soldered to the mother board.
Befaco's main activity are the workshops where the different modules are tested and modified according to the experiences and feedback from the workshop participants. Workshops are regularly held in Barcelona, Madrid and Berlin.
By the way, Befaco will be giving a workshop at OneDroneDay festival next June 14th. If you have always been fascinated by these musical instruments full of knobs and colorful cables, it's your opportunity, as no previous knowledge in electronics is required , just a lot of want-to and a little patience 🙂
////////////////////////////////////////////////////////////////////////////
FERROLUAR
If you are a Dorkbot regular possibly remember Ferroluar. Raúl Beteta uses mechanics and recycled metal objects and other scrapping components in a very imaginative way, creating works that are somewhere among kinetic sculpture, robotics and plain magic (his interactive sculptures of animals seem to have a life of their own) A couple of years back Ferroluar joined forces with MID to create the Robot-UFO, that was used at the Three kings parade in Barcelona in 2013. The Robot is controlled by a custom software that uses OSC and DMX protocols, so that the motion of the robot can be syncronized with lights and sound. Inside the robot there is a control panel to drive it like a vehicle, and a hydraulic system to elevate it up to 5 meters high. Aesthetically the robot is inspired by early science fiction and japanese robotics from the 1950s. Since he's a tall, attractive dude, he became the sensation of last year's Sónar+D 🙂
In the last months the set of lights and sound has been upgraded and a biped version of the robot has been constructed, and that's what we are going to see at Dorkbot.
////////////////////////////////////////////////////////////////////////////
OSCAR SOL
Oscar Sol is a visual artist specialising in creating generative visuals, that has a special interest in technological tools, that let him to analyze and digitalize real world events, to create later on, their audiovisual representations. At Dorkbot he'll share his creative processes, and the technologies that made possible his two audiovisual interactive dance projects: Oscillare and Trinity, that he has produced under the e Electronic Performers moniker.