We know: lately you've felt like putting your fingers on plugs because you need to feel the tickle of electricity. We feel the same, we need our dose of volts and amps, zeros and ones perfectly aligned like little soldiers, endless circuit roads… Dorkbot is back within the frame of the activities of  Hangar Obert on September 14th at 7 pm in Hangar and we have prepared this exciting program with the following participants:
////////////////////////////////////////////////////////////////////////////
CONDUCTR
Conductr is an Ableton Live controller for iPad specifically designed for live performance. Conductr is all about playing music. Forget about dozens of microscopic buttons, tiny knobs and short faders on screen. Let's keep things simple: when you play you don't really need to see everything all the time, just the one single thing that you need at a particular moment. The Conductr interface is ergonomic and you can even play it without watching the iPad.
Conductr is made by musicians for musicians who use Ableton live, one of the most popular DAWs.
Más información : www.conductr.net
////////////////////////////////////////////////////////////////////////////
PLAYMODES
Playmodes software is a research project to develop an audiovisual sampling engine. The main idea is to get video flow from live cameras, and audio flow from audio generators and process them in real-time with sampling artifacts of any kind (delay, reverse, time-stretching, relooping machine…and more)
Since 2006 the Playmodes project has been mutating into different software applications that have led to the creation of several installations and performances, like the "Playmodes" installation or the "Reflexus" show. This project also gave name to the studio www.playmodes.com a creative bureau working on audiovisual research and interaction design.
Further information: www.playmodes.com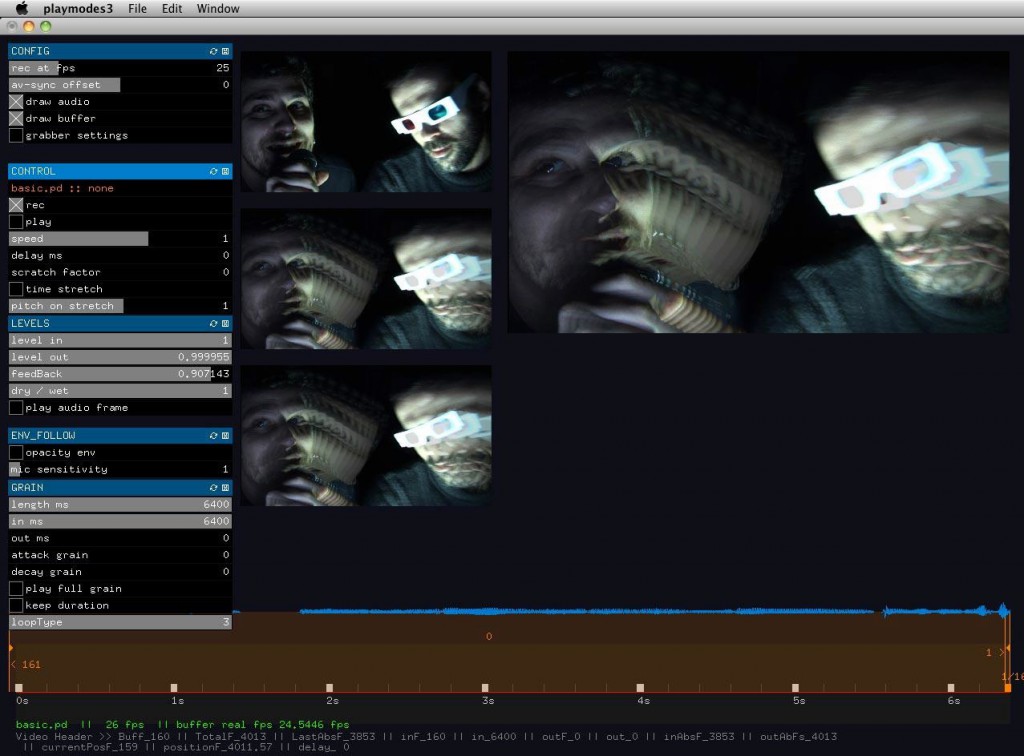 ////////////////////////////////////////////////////////////////////////////
THE MACHINE TO BE ANOTHER
"The Machine to Be Another" is an artistic research project that is developed from hacking neuroscience experiments with collaborative performances. The system allows the users to see and feel themselves inside the body of another person (a performer) and hear this other person's thoughts inside their mind, as if those thoughts were their own. The performances are all about empathy and identity in the search of understanding questions like; "If I was you? Would you understand me better?" or "Being in another person's shoes".
The team behind BeAnotherLab investigate as well, the usage of the machine as a tool for rehabilitation to be used in the health field.
This project is the result of a three month residence at L'Estruch.
Presented by: Daniel González Franco and Phillippe Bertrand
Further information: www.themachinetobeanother.org
The Machine to Be Another – Artistic Experiment from BeAnotherLab on Vimeo.
////////////////////////////////////////////////////////////////////////////
Guerrilla Drone, Flone, Dronism, DroneCoria… presented by LOT AMORÓS
After several years experimenting with drones, Lot Amorós is going to share with us the process of his investigations about nonmanned aerial vehicles. He is going to present the projects "GuerrillaDrone", an activist drone that projects subversive message over the city buildings, "DroneCoria", a cybernetic system that allows to throw seeds from drones, "Augmented Airspace" an augmented reality performance on the aerial space, Dronism, the new religion of the drones and the Flone project, the mobile phone that can fly, currently in development in collaboration with Aeracoop.
Further information:
Arquitecturas del aire público y resistencias culturales