These are the contents for the next Dorkbot Barcelona meeting.
Take note:
Place: Hangar
Time: 7 PM
We are looking forward to see you!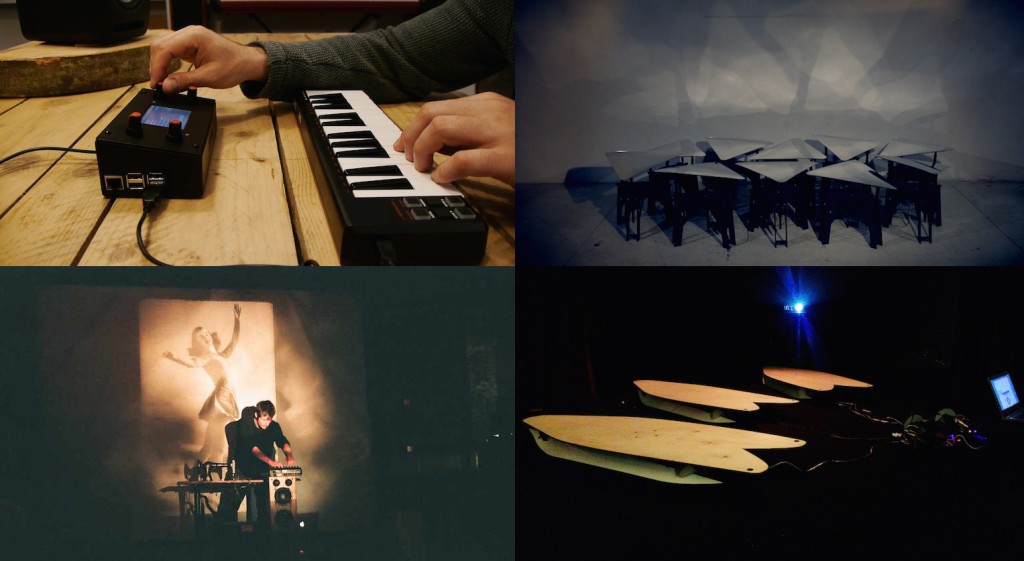 Zynthian
Zynthian is a sound synthesis platform that works on open source software and hardware as it is based on Raspberry Pi. Its small size and ease of use make Zynthian a perfect tool for the studio, audio production and sound design, and live performances. Easy to configure, hackable and update-friendly, Zynthian is open to anybody who wants to build their own Zynthian Box and thus contributing to its software development. Step by step, Zynthian is consolidating its community of users and currently there are people building their Zynthian boxes all over the world.
You can find the complete tech specs here:
https://zynthian.org/#menu-features
And here's the community forum:
https://discourse.zynthian.org
Upcoming workshop in Barcelona:
https://www.puntmultimedia.org/cursos-categories/tallers-multimedia/zynthian-construeix-el-teu-propi-sintetitzador-digital/
Haptical Waves – Xavi Manzanares dAAX
Haptical Waves is a dual listening device (auditive and haptic). A generative audio bot plays in real time a musical composition through integral body listening.
The auditive listening is made through binaural sound using headphones, while the haptical listening transports to the body the composition's sub frequencies through the OHWaveSurf boards.
This dual sensorial experience features a minimalist composition called OHPI, which is based on the 13 dimensions presented by some physics theories. Based on the 27.7(360º/13D=27.7) ratio and its proportions, that proposes a listening experience connected with cosmology and space.
More info:
https://noconventions.mobi/daax/
La Machine à Coudre la Musique – Gabriel Lecup
La Machine a coudre la musique (LMACLM) is an audiovisual performance that wants to induce the audience into hypnotic and oneiric altered states of perception, upon the repetition of both visual and sonic micro-loops.
The piece features a sewing machine that has been transformed into an amplified and digitally processed string instrument that combines three systems that adapt and synchronize each other over time: mechanical (the machine itself), human (the performer) and digital (the processes and effects)
LMACLM was created with the goal to explore natural scales, finding harmonics in a tensioned string that has evolved into a performance. Since its inception in 2012 the piece has been performed regularly at experimental and electroacoustic music events (HS63, Recycl'Art, Le Placard, etc.)
https://www.gabriellecup.com/la-machine-a-coudre-la-musique
Ocean Dream – Patricio Rivera
Patricio Rivera is back to Dorkbot, this time, with the kinetic sculpture Ocean Dream.
In this piece, the artist reconstructs symbolically the maritime space crossed by the "illegal" migrants in their attempt to get to the European coasts.
Ocean Dream consists on a set of sound generators based on the behavior of the ocean drum, a percussion instrument that evokes the sound of the ocean waves.
The sculpture moves in real-time from the data collected by a floating buoy in the sea of Lesbos that tracks the movement of the ocean.
The audience experiments sensations that are only "illegal" migrants are able to feel in their flight.
Ocean Dream has been produced within the Hangar artistic residencies program and was selected by the Mostra Sonora i Visual at Convent de Sant Agustí (Barcelona) last June.
Note: Ocean Dream is also the name of Spanish luxury cruise
More information:
https://www.patriciorivera.com
Ewen Chardronnet – The Laboratory Planet
The newspaper "The Laboratory Planet" was created in 2007 at the initiative of Ewen Chardronnet and the group of artists Bureau d'études who assumed overall editorial responsibility since.
Publication dependent on funding opportunities, four issues have been published between 2008 and 2011, with mixed prints 5,000 copies in French and 5,000 in English.
The Issue 5 : "Alien Capitalism: Xenopolitics of the Anthropocene" was published on February 4, 2016, for Transmediale in Berlin and funded through a Goteo crowdfunding campaign.
The dissemination was carried out by support networks or at activist or cultural events or interventions in academic contexts.